Our business activities are supported by a wide range of stakeholders. We will contribute to the realization of a prosperous society by meeting the expectations of our stakeholders and earning their trust.
Activities through Business
As a community member, we are deepening our interaction with the localities where we do business and are contributing to the development of regional society through our business.
Opening of "KURASHI NO SUMAHO KYOSHITSU" , a fun learning smartphone class with one-on-one individualized instruction
In recent years many services have come on the market to make life convenient by using ever popular smartphones. However, by age group, the use of smartphones is not widespread among senior citizens aged 60 and above. One reason for this is that many senior citizens cannot dispel the fear that they may be unable to use a smartphone even though they buy one.
Conventional smartphone classes consist of multiple people learning a set curriculum, and many customers have requested to learn more about how to use smartphones. In response, we opened "KURASHI NO SUMAHO KYOSHITSU" smartphone classes for those who want one-on-one individual curriculums and those who have finished learning the basics and want to further improve their skills.
Three characteristics of "KURASHI NO SUMAHO KYOSHITSU" smartphone classes
Customers are counseled and provided an individually tailored curriculum
Customer proficiency is visualized, and dedicated instructors selected in telecom carrier-certified shops provide comprehensive support
A rich curriculum is available and may be taken repeatedly until the customer is satisfied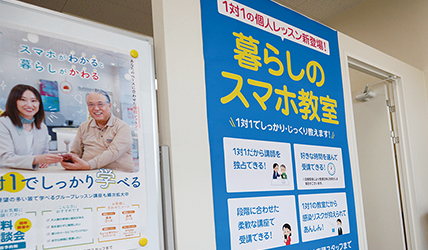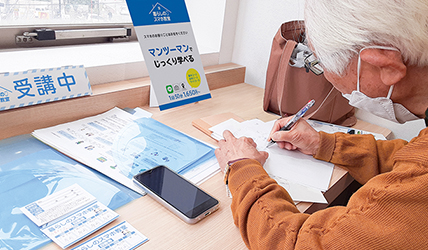 Opening of sign language smartphone classes
In 2019 we began sign language smartphone classes by a hearing-impaired instructor at a docomo Shop in the Kanagawa area in order to solve the smartphone problems faced by hearing-impaired persons. This class has been popular because communicating in sign language is smoother than in writing. The class has even been held at the Sign Language Festival in Kanagawa sponsored by the KANAGAWA Association of the Deaf.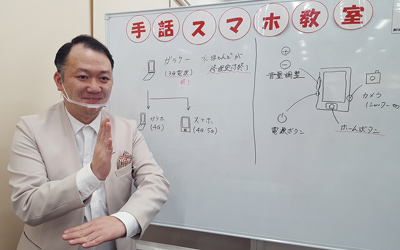 Contracted by the Ministry of Internal Affairs and Communications for its "Project on Digital Utilization Support for Users (regional collaboration type)"
The Basic Policy for Reforms toward the Realization of a Digital Society, which was decided by the Japanese Cabinet in December 2020, calls for "people-friendly digitization that leaves no one behind." Since we started smartphone classes in 2014, we have opened classrooms at all of our telecom carrier-certified shops throughout Japan, as well as offered many pop-up smartphone classes through collaboration with community members. In recognition of our track record, we won the contract for the "Project on Digital Utilization Support for Users (regional collaboration type)."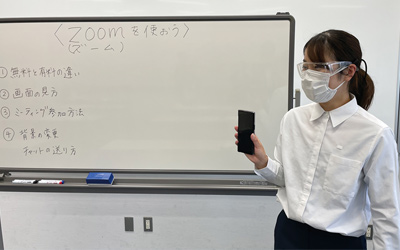 Participating in e-Net-Caravan
The Ministry of Internal Affairs and Communications is providing the e-Net-Caravan educational program as part of its activities to raise awareness of safe and secure use of the internet for parents and guardians, teachers and school staff, and children and students, in partnership with the Ministry of Education, Culture, Sports, Science and Technology, telecommunications carriers, and other companies. CONEXIO supports this program and regularly participates in its activities nationwide.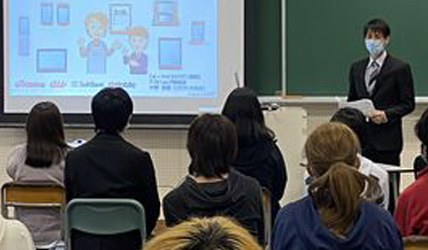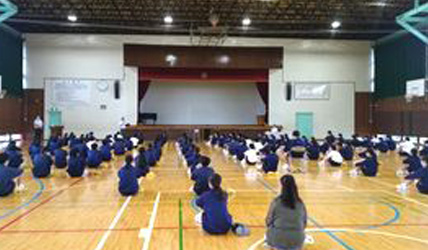 Providing filtering services
In order to ensure that children use smartphones safely, we make sure to explain filtering services to guardians at our carrier shops.
Recent years have seen an increase in the number of children who get into trouble or harm as a result of social media and other sites on their smartphones and mobile phones. Around 90% of children identified as actually having been victimized did not using filtering at the time of the incident (according to a study by the Juvenile Division, Community Safety Bureau, National Policy Agency). Against this backdrop, it is required by law to sign up for filtering services and set up filtering at the time of sales when signing a contract for smartphones and mobile phones intended for use by a child under the age of 18. By telling guardians about the importance of filtering services in order to protect children from trouble at our carrier shops, we contribute to creating environments where children can use their devices safely and securely.
Accelerating the promotion of companies' telework and digital transformation
Boasting an industry-leading corporate customer base of approximately 7,000 companies in Japan, CONEXIO leverages its extensive expertise and track record in the implementation, operation, and management of mobile solutions to promote the introduction of "Mobile WorkPlace", which enables users to work using mobile devices and cloud applications regardless of time and location.
"Mobile WorkPlace"
CONEXIO's concept that is essential for promoting telework, "Mobile WorkPlace" is a "new working style that connects people with value." The system enables smooth business communication by allowing users to utilize the necessary data and services freely and safely as they move around, using the mobile device and network environment that is appropriate to their situation.
Details are available on the service site.
https://sol.conexio.co.jp/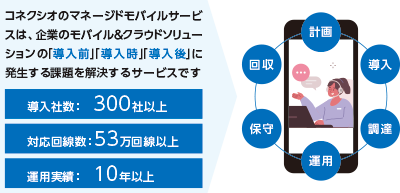 Managed Mobile Service for mobile introduction, operation, and management
Leveraging our position as a telecom carrier sales agency, CONEXIO provides one-stop support on behalf of customers spanning everything from advice on purchasing mobile devices to consulting at the time of introduction, kitting, operation and management, and support with issues. Driven by the motto of "creating services that suit customer needs," we can fully outsource all tasks that require human support involving mobile device usage, management, and operation.
"Managed Mobile Service"
The direction of business can be radically transformed by working style reform, information provision, and behavioral support utilizing mobile technology. Additionally, new customer value can be realized, including contributing to solving social issues and achieving SDGs. CONEXIO's Managed Mobile Service is a solution that creates new value together with customers, primarily through mobile procurement and management. This "co-creation business" provides comprehensive support for customers.
Details are available on the service site.
https://sol.conexio.co.jp/biz/ms/
<Examples of services CONEXIO can provide>
Mobile introduction, procurement, operation, and maintenance
Provided at the optimal introduction cost by using multi-carriers, multi-devices, and procurement from abroad, etc.
Unified management of device operation and maintenance by the help desk
Help desk kitting
Help desk: Dealing with customer inquiries, line management, malfunctions, loss, and reporting Kitting: performed on-site
MDM (security) and various solutions
Various types of establishment and operation
<"Managed Mobile Service" Track Record>
CONEXIO pioneered the industry by launching this service in 2008. Leveraging our position of a telecom carrier sales agency and our strengths of having our own kitting center and help desk, we support everything from device procurement and setup to operation and disposal.
We meet customer needs with the expertise that comes from our outstanding track record.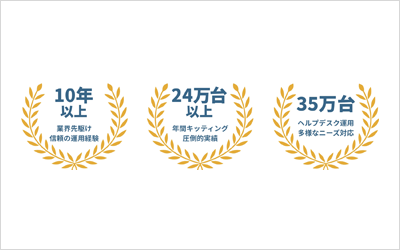 Helping to solve corporate and social issues through new IoT solutions
CONEXIO has a long track record of equipping special vehicles, vending machines, construction machinery, agricultural machinery, electric meters, and other devices with communication functionality. Leveraging the abundant knowledge of communications that we have cultivated, we have solved a variety of issues that have actually occurred in the field. We help customers establish and operate IoT services by addressing a variety of issues that cannot be solved with software alone through services such as hardware customization in accordance with environment; providing safe and reliable data transmission methods, taking into consideration the burden on networks and applications; and support including on-site response.
<Examples of IoT introduction>
Monitoring water level information using IoT water level gauge
(YDK Technologies Co., Ltd.)
Collecting information from water level gauges installed at various points of a river to visualize the status in order to detect danger factors such as rivers rising or overflowing and establish a rapid and appropriate disaster prevention information and evacuation system.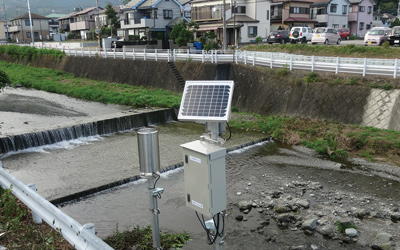 System structure