Our business activities are supported by a wide range of stakeholders. We will contribute to the realization of a prosperous society by meeting the expectations of our stakeholders and earning their trust.
Human Resource Development
We are working to create workplaces that accept and respect employees' diverse individualities, where each and every employee can demonstrate their capabilities and feel the joy of working.
CONEXIO College
Our education and training are split into three main systems as CONEXIO College. We provide education and training programs that leverage in-person and online formats with an eye to strengthening the growth of individual employee and their on-site capabilities.
1) Common companywide education – basic education
The program aims to enhance the basic foundation as professionals, regardless of their industry or job category. We provide in-person and online group training sessions such as training for new graduates in their first to third year of employment, stratified training, the next-generation leaders' school, and the female managers' school, as well as roughly 200 free e-learning courses where employees can study subjects from internal knowledge to general education.
2) Common companywide education – strengthening on-site capabilities
This voluntary training program is available for all employees. We provide a forum for learning a variety of business skills beyond the confines of departments and generations, and offer opportunities for employees to exchange opinions and information among themselves in addition to obtaining skills.
3) Education by department
This is an educational / training program for learning unique knowledge, skills, and capabilities required for tasks of each department, developed based on the common companywide education. Human Capital Development Department and relevant departments jointly develop training programs to provide more effective and practical education / training, with a focus on issues specific to each department.
Mentor system and trainer system
We have introduced two systems, a mentor system and a trainer system, to educate new employees. Mentors are in charge of the education and follow-up of new employees. In addition to giving advice about their business affairs, mentors provide consultation of the various troubles and worries outside of work, both large and small, to support help them stand on their own two feet. In response to employees who said they were unable to find time to have a counseling session, we have introduced SNS for work use to create an environment where employees can feel free to consult.
One trainer is assigned to each shop or area. They work to follow up on employees' education and help them acquire qualifications. We have prepared resources such as training and e-learning to ensure that young employees are able to act as mentors and trainers.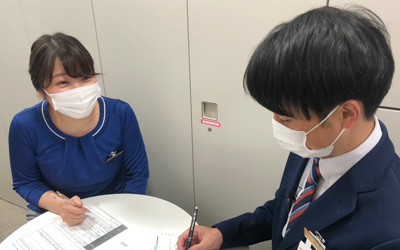 Companywide award system
We have adopted a companywide award system, given the need to develop a sense of belonging to CONEXIO and ensure all employees share the same mindset and purpose. In FY2020, a total of 34 awards including seven Awards for Contribution to Business Results, eight Awards for Improving Partner Presence, nine Awards for Contribution to CSR and Corporate Philosophy, and ten Awards for Good Support were given, selected from candidates who have made contribution in various fields. The President Award was also given to one of the award recipients.